Complete Guide to Gardens by the Bay
Gardens by the Bay is an award-winning public garden in Singapore. With over 75 million visitors to date, this Garden is a popular destination for locals and tourists alike. This park has been designed to be the green lung of the island nation, and it's open 24 hours a day for your exploration.
The gardens have three distinct gardens, Bay South, Bay East and Bay Central, which range in size. Still, all offer different benefits to their visitors. Each with its own features and benefits. Explore them all!
The Bay South Garden is the largest of the three Gardens by the Bay in Singapore. The largest attraction is Flower Dome, with its award-winning conservatories and iconic Supertrees. This Garden has placed Singapore on the international map and provides a sense of national pride.
The Supertree observatory provides visitors with panoramic views of Singapore from high up in the sky. You can also find art sculptures scattered throughout the park.
Bay East Garden, 2nd largest waterfront garden, is a beautiful waterfront garden in the heart of Singapore's downtown. It is situated between Bay South and Bay Central Garden and offers views of the Marina Bay skyline. The Garden has undulating paths, lush lawns and elegant palm trees; it is a perfect spot for recreation amidst greenery. Offering 3 different areas to explore, visitors can enjoy a hearty picnicking with their family and friends while admiring the picturesque scenery of Marina bay skyline. It is freely accessible to all open 24 hours and 7 days a week. This green haven in the city will be an ideal destination for families, sports enthusiasts or anyone who wants to soak up some sun and get some fresh air! 
Unlike any other, this is a unique attraction – a green oasis right smack in the middle of an urban jungle. Many events are hosted at Gardens by the Bay throughout the year, such as festivals, concerts, movie screenings, and more. These events make visiting Gardens by the Bay a whole new experience.
With so much going on at this place, we could go on for days about all you can do here. Here are just a few reasons why Gardens by the Bay is worth visiting.
12 things you can do at Gardens by the Bays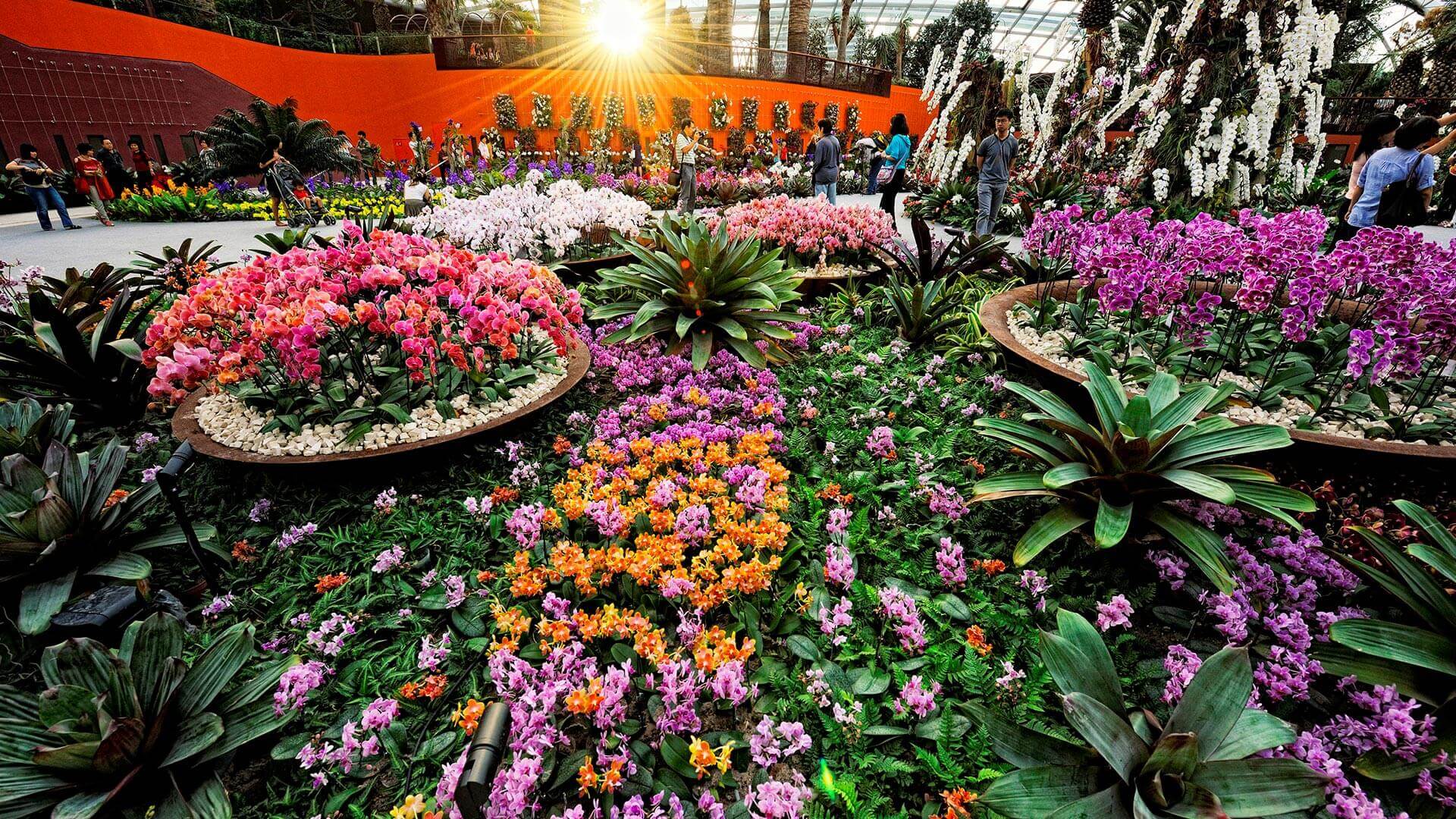 Flower Dome
It's a place filled with blooming flowers.
The Flowers Dome is a must-see for any first-time visitor as it's home to over 20,000 plants from 200 species. This space is almost two acres large and contains an extensive network of 12 interconnected domes that give you access to different types of plants and gardens.
The Flower Dome is a must-see for any first-time visitor as it's home to over 20,000 plants from 200 species. This space is almost two acres large and contains an extensive network of 12 interconnected domes that give you access to different types of plants and gardens.
Explore Flower Dome
The Flower Dome's volume is equivalent to 75 Olympic-sized swimming pools.

The Flower Dome is covered with 3,332 glass panels.

The temperature in the Flower Dome ranges from 23°C to 25°C

The Flower Field Hall accommodates up to 1,000 people.
Be awed by the Flower Dome's beauty and its sheer size. This huge, cooled conservatory holds the Guinness World Record for the largest glass greenhouse! Come explore and learn more about this innovative megastructure that literally brings the world's flora under one roof.
Baobabs (aka Bottle Trees)
Get up close with the Baobabs in the Flower Dome! A plant that goes by several common names, this spectacular tree is also known as the Bottle Tree – a hat-tip to its peculiar-shaped trunk – and the Tree of Life, providing shelter, food and clothing for African savannah inhabitants. Other plants to look out for in the Flower Dome include the Drunken Tree, Ghost Tree, and African Baobab — the most giant tree in the Gardens!
South African Garden
Explore a sea of colourful flowers, evergreen shrubs, succulents and bulbs as you through the South African landscape.
South Africa is home to many exclusive or endemic species, including 'Fynbos' plants. These species have needle-like leaves that form thickets of fire-prone, hard-leaf shrubs that grow in sandy, low-nutrient soil. Many of the plants in this vegetation have small, dark leaves covered in a waxy outer layer that helps them retain moisture.
Mediterranean Garden
The Mediterranean Basin is one of the first places to practise agriculture, with olives, figs, grapes, wheat and lentils. This Garden also showcases the region's native plants, such as the Stone Pine or Date Palm. Don't forget to stop by the waterfront and admire the beautiful row of Italian Cypresses, which is reminiscent of Lake Como in Italy.
South American Garden
Wander through the stunning Chilean Garden and be mesmerised by exotic plants from Central Chile, such as the Monkey Puzzle Tree and the Puya from the dry rock outcrops in central Chile, and the stunning formation of large specimens of Chilean Wine Palm on the terrace.
Succulent Garden
Venture into the desert without experiencing the heat and learn more about these prickly plants.
As water-storing desert plants, succulents belong to families such as Cacti, Aloes and Crassulas. Look closer, and you'll find that many of these species have sharp spines to protect themselves. A dense cover of blue or grey wax over the surface of their leaves and stems also helps protect them from dehydration and deflect excess UV light in the desert.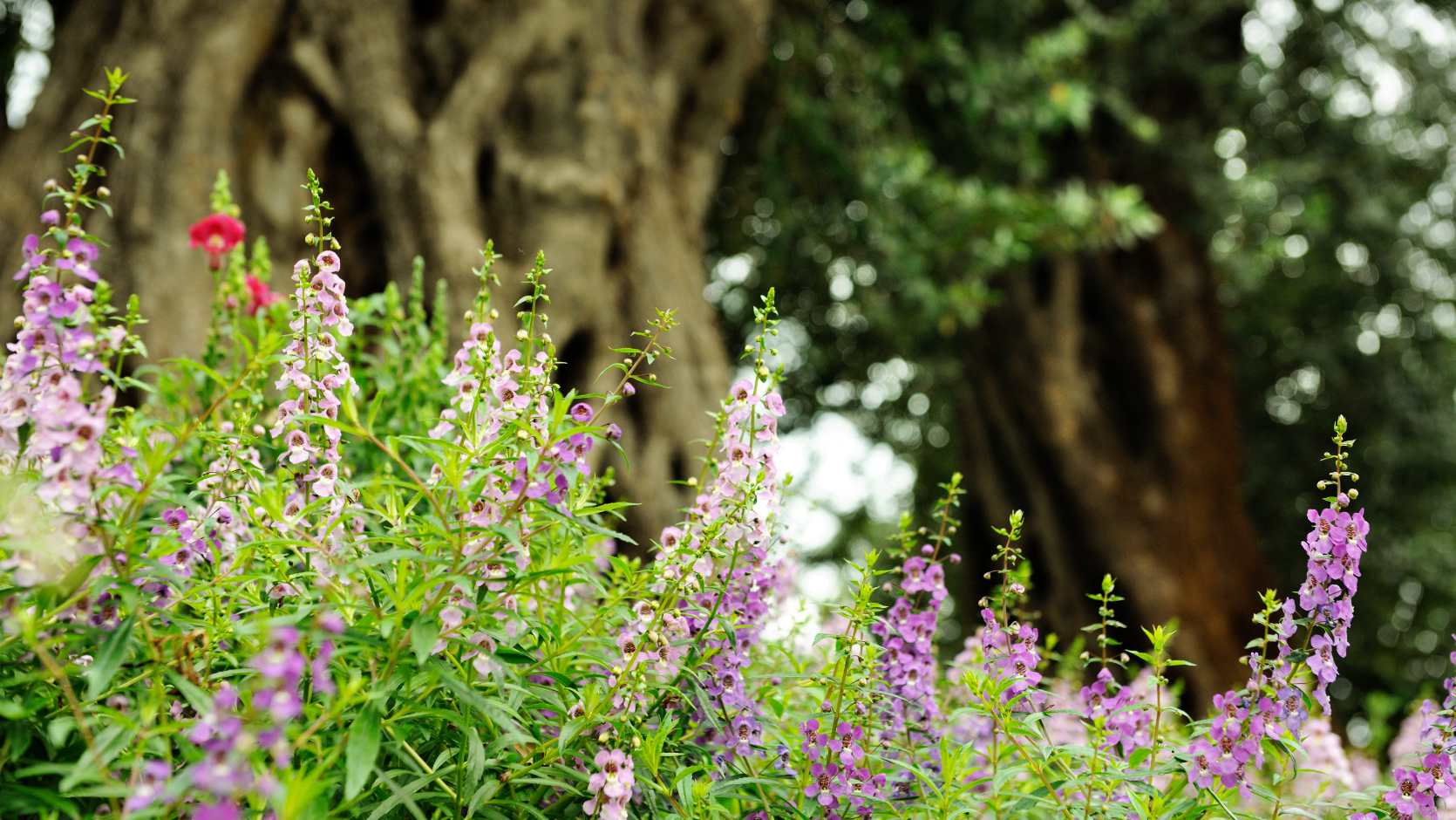 Olive Grove
Olives, figs, grapes, pomegranate and many other crops are characteristic of the Mediterranean region. Grown for thousands of years, they form an important part of the region's identity and heritage. A photo in front of the magnificent 1000-year-old Olive Tree is a must before you leave the Olive Grove.
Flower Field
The changing floral displays in Flower Dome reflect different seasons, festivals and themes. This September, visitors can look forward to seeing up to 2,500 chrysanthemums in striking hues of red, pink, orange and yellow at the Flower Field, specially curated to complement Dale Chihuly: Glass in Bloom glass sculptures.
Californian Garden
Head up the stairs and be welcomed by the colourful 'Chaparral' from the Californian Mediterranean region. Comprising mainly shrubs and a few trees, these plants are affected by natural fires that occur from time to time. Some of the plants also display aromatic, downy foliage to discourage herbivores from browsing on them.
Australian Garden
Travel through the deserts of Australia and see the native floral in full bloom at the Australian Garden.
In a fascinating showcase of plants in Western and South Australia that thrive in a cool-dry climate, discover how different species have adapted to survive the long dry seasons and how some plants have even come to rely on fires to aid their reproduction.
Cloud Forest
Cloud Forest is a tropical rainforest with the world's tallest indoor waterfall located in Singapore. Visitors can go deep into the forest and walk on aerial bridges to view plants from around the world, as well as carnivorous plants such as Venus Flytraps and pitcher plants. The diversity of plant species, combined with the stunning views and lush vegetation, make for an unforgettable experience that you'll want to share on social media. The spectacular views of Marina Bay make for a memorable visit that will leave you feeling refreshed and ready to take on anything!
It is as large as 1.5 regular football fields.

It features a 

35m-tall indoor waterfall.

The temperature in the Cloud Forest ranges from 23°C to 25°C.

Cloud forest has a humidity of 

80% – 90%
Cloud Walk
Take a stroll along the Cloud Walk as you descend the mountain. Admire the vibrant epiphytes that clad the mountain's sides as you enjoy panoramic views of the Gardens and Marina Bay
Crystal Mountain
Bask in the company of real stalactites and stalagmites at Crystal Mountain, and dive into a bit of geology! Learn about how continents formed, the age of the Earth, and the importance of fossils in understanding our planet's past.
Cloud Forest Theatre
What can we do to contribute to nature conservation and a more sustainable future? Get inspired at Cloud Forest Theatre! Interact with our holographic display and catch engaging short films to learn about climate change and eco-sensitive ways to support these meaningful causes.
The Cavern
Learn about the characteristics of cloud forest habitats around the world, as well as and unusual species unique to them. Be wowed by the fantastic adaptations of epiphytes – these plants don't grow in soil but rely on the support of other plants to thrive!
Tree Top Walk
From the foot of the mountain, look up and feast your eyes on the lush forest canopy sprawling across the Tree Top Walk.
Lost World
Make your way to the mountain's peak. Take a closer look at unusual vegetation native to cloud forest habitats, typically found at some 2,000 metres above sea level. Look out for carnivorous plants such as pitcher plants and Venus Flytraps set against a lush carpet of delicate ferns and mosses — all while enjoying spectacular views of the Marina Bay waterfront.
Waterfall View
Take a moment to appreciate Earth's freshwater sources, learning how epiphyte-laden branches help cloud forests capture water droplets from mist and fog.
Secret Garden
Discover 7,000 plants of more than 135 species and hybrids set amidst a landscape inspired by limestone forests and caves. Be sure to keep an eye out for the miniature orchids here—some of which are so tiny, you'll need a magnifying glass to spot them!
Cloud Forest Gallery
Enjoy interactive exhibitions and a dynamic short film at the Cloud Forest Gallery. Find out how a growing human population and excessive use of resources impact our environment and the species living in it.
Orchid Haven (NEW)
Orchid enthusiasts will be thrilled with Orchid Haven, a 280 sqm area dedicated to hosting the cooled conservatory's changing orchid displays as well as permanent orchid exhibits. With the growing popularity of Cloud Forest's changing orchid displays, horticulturists recognised the need to carve out more space to showcase orchids.
Flora Fantasy
Floral Fantasy is a great place to escape the hustle and bustle of city life. The surreal environment at Floral Fantasy will take you away from your busy day-to-day routine, so come on down! Whether it's for a date night with your significant other or just an afternoon out with friends, this garden oasis near Bayfront MRT station has plenty to offer. If you love Nature, then head over to explore the gardens that segue into each other through meandering space. Along the way, stop by a vivarium populated by tiny poison dart frogs in stunning hues! This magical experience awaits those who are ready for some peace and quiet among plants and flowers as they make their way through this enchanted wonder.
Dance
Bedazzled by a canopy of suspended flowering plants decked in a fistful of vibrant colours at Dance, the first of Floral Fantasy's four distinctive garden landscapes. Your eyes aren't playing tricks on you — these overhanging beauties are swaying sinuously just like they're dancing in the air!
Float
Fancy a little ASMR? Enjoy the calming sounds of a bubbling brook at Float as you admire hundreds of delicate fuchsias hanging overhead. Meet Nobu, the garden guardian who watches over his plants. If you're observant enough, you might even find his nine fairy friends hiding among the flowers!
Waltz
Anything but mundane, Waltz enchants with a rain oasis, flowers among cascading rockscape, winding driftwood, as well as a poison dart frog vivarium. Try spotting these adorable amphibians: despite being tiny, their brilliant colours are hard to miss!
Drift
Come away to Drift, Floral Fantasy's final garden landscape — a cave-like space ringed with terraced rock formations. Encounter over 50 species of intriguing plants that hail from Central and South America, alongside begonias, huperzias and orchids gently illuminated with soft lighting.
Fantasy Theatre – Flight of the Dragonly' 4D Ride
Fantasy Theatre remains closed until further notice. We apologise for the inconvenience caused.
Take a simulated flight around Gardens by the Bay through a dragonfly's eyes in this immersive experience! (Height requirement: 1m and above) Please refer to the Advisory for accessibility and height requirements.
OCBC Skyway
A different point of view
Enjoy the most enthralling views on the OCBC Skyway. Suspended between two Supertrees at 22 metres above ground, this 128m-long aerial walkway offers marvellous opportunities to capture that postcard-worthy shot of the Gardens' lush surrounds, set in the heart of downtown Marina Bay.
Experience of music and lights amidst our Supertrees
Returning with 2 daily light & sound shows, come and be dazzled by the magnificent sight of our Supertrees and let the music and lights entertain you every night at 7.45pm and 8.45pm.
Tales of the Moon
Immerse yourself in a breathtaking concoction of dancing lights from the Supertrees and evocative soundtracks beneath the gentle glow of the moon. Let us take you on a journey filled with tales of great fantasies and poignant memories about the moon like no other.
Garden Rhapsody is a signature light and sound show of the Gardens by the Bay. Its overall creative vision has been led by award-winning Lighting Designer Adrian Tan and one of Singapore's most sought-after music composers and arrangers, Bang Wenfu, since 2015.
Supertree Observatory
The Supertree Observatory offers unparalleled views of the Gardens by the Bay and Marina Bay area. It's an ideal spot to take in unobstructed views, set against Singapore's cityscape and Marina Reservoir's pristine waters at sunset or during a clear night. The observatory deck is one level below the open-air rooftop deck. It features an indoor viewing space with climate change theming and outdoor areas for scenic shots. You can find the perfect backdrop for your Instagram photos here!
Other Attractions in the Gardens by the Bay
Far East Organization Children's Garden
Far East Organization Children's Garden is a beautiful place to bring your kids. They have three sections for children aged 12 and below – Toddler Play Zone, Rainforest Tree Houses, or Water Play area. The toddler play zone has stepping springs that help them hone their motor skills the fun way. The rain forest treehouses are perfect for those who love jungle adventure fantasies coming true! If you want something interactive with water, this is where you need to be! Lastly, there is an amphitheatre that seats up to 300 people, so it's great if you're looking for somewhere dry and comfortable to watch educational events as well.
Bay East Garden
Bay East Garden is a great place to spend time with family and friends. The Garden offers plenty of greenery, lush lawns, majestic palm trees, and the Marina Bay City skyline views. Whether you want to read a book or enjoy a hearty picnic on its expansive grounds, this outdoor oasis in Singapore's heart serves as an ideal destination for all sorts of recreational pursuits!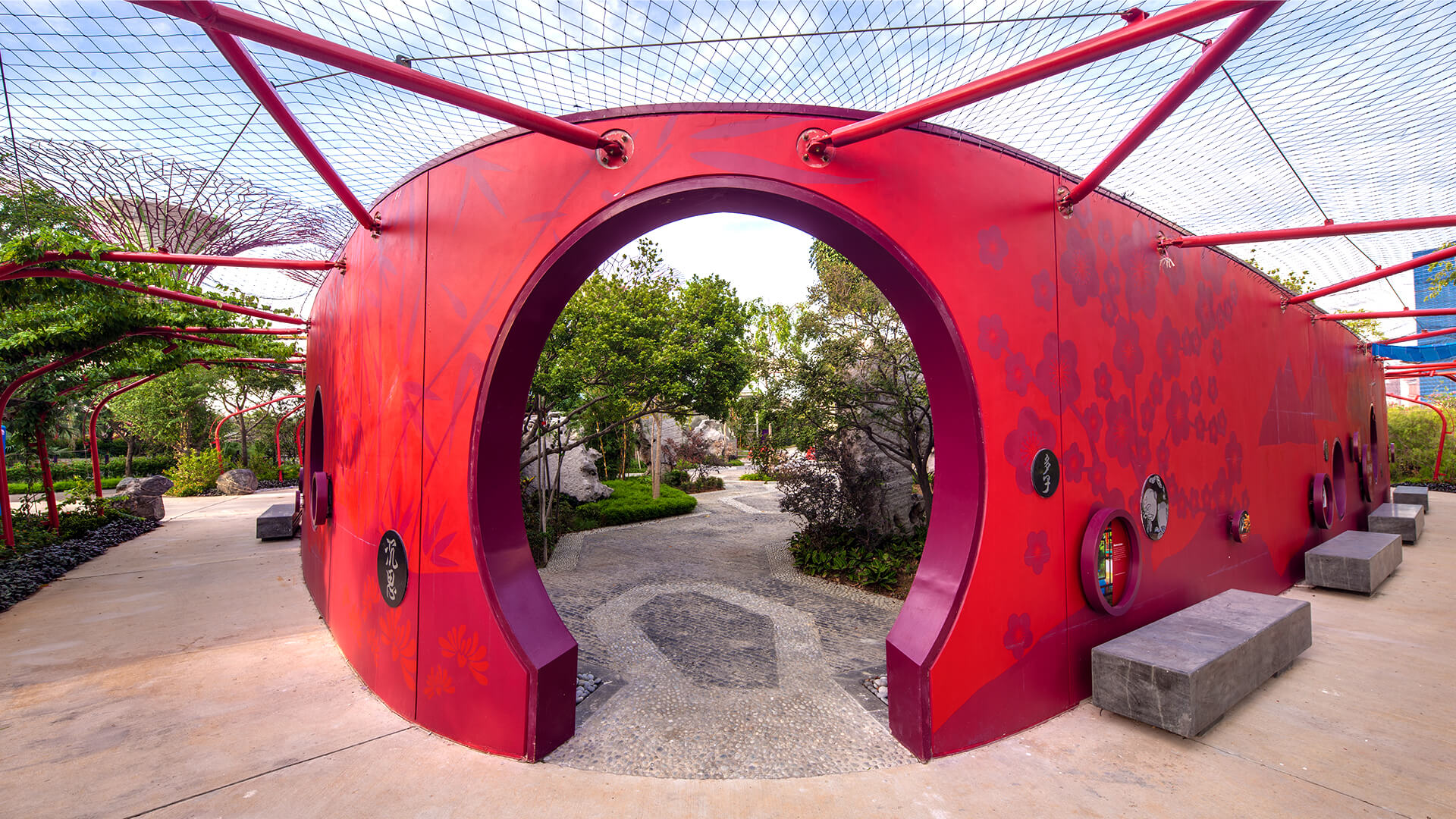 Heritage Gardens
Heritage Gardens has a lot to offer visitors looking for an immersive experience of Singapore's history. The four themed gardens, The Indian Garden, the Malay Garden and the Colonial Garden, are just some of the gardens you can explore as you walk from one story to another in this historical location. Perhaps your visit will inspire curiosity about other cultures too? When visiting Heritage Gardens, be sure not to miss out on these fascinating stories!
The Canyon
The Canyon at Gardens by the Bay is a 400-metre trail with fascinating sculptures and natural rock formations. This place is an amazing destination for those who want to see both Nature's masterpieces and Art in one fell swoop. If you are looking for something different, this might be the right spot! The biggest rocks here can reach up to 7 metres tall. With more than 5,900 plants of 200 species, there's plenty that will catch your eye if you visit!
Supertree Grove
Supertrees are sustainable vertical gardens housing over 162,900 plants of more than 200 species. They are vertical gardens that will delight any plant lover. Seven of the 18 supertrees are designed to harvest solar energy, and 11 have photovoltaic cells for green power. The tallest tree, the OCBC Skyway, allows visitors to experience these vertical gardens up-close by sitting 22 meters above ground with panoramic views of Marina Bay. Soak in these spectacular views against the Marina Bay skyline while listening to live musicians play during Garden Rhapsody shows which simulate 'live' music at various spots throughout each show using 68 independent audio speakers!
Sun Pavilion
If you've ever wanted to get lost in the desert, then Gardens by the Bay is just what your heart desires. The Sun Pavilion offers a beautiful space for visitors to enjoy. At the same time, they explore desert plants and other unique features of this themed Garden. So if you find yourself near Singapore or are planning on visiting soon, be sure to stop at our amazing Garden!
Dragonfly and Kingfisher Lakes
Dragonfly and Kingfisher Lakes in Bay gardens is a beautiful and refreshing place to take a stroll. There is plenty of aquatic life in and around the lake. You can dive deeper to see how it's thriving right within your sight. If you're lucky enough to spot some dragonflies along your walk, don't forget to use the binoculars for an up-close look at these colourful creatures. You can also check out our special QR codes for even more facts about this ecosystem!
Travel in Comfort and Luxury
The family outing can be hassle-free and convenient. Engage Prime Aces Limousine for your outing today. Easy, Hassle-free and comfort.